"In my view, the UK's most astute and effective tutor, a guiding light through his deft criticism and the example of his own work.  Peter Sansom is Mr Poetry."
— Simon Armitage
Over the last 25 years, Peter has led writing workshops in hundreds of schools and workplaces, been Writer in Residence for Marks & Spencer and The Prudential and regular tutor for the Arvon Foundation.
He taught the MA Poetry at Huddersfield for 10 years, was Fellow in Creative Writing at Leeds University, and leads monthly Writing Days and the advanced Writing School course at The Poetry Business.
His textbook, Writing Poems, is regarded as a seminal text, and the Poetry Business Writing Days as the benchmark in creative writing teaching provision.
---
Writing Poems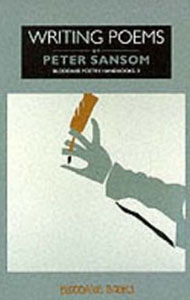 978-1852242046
Bloodaxe Books, 1993
Drawing on his extensive experience of poetry workshops and courses, Peter Sansom shows you not how to write but how to write better, how to write authentically, how to say genuinely what you genuinely mean to say. This practical guide is illustrated with many examples.
Peter Sansom covers such areas as submitting to magazines; the small presses; analysing poems; writing techniques and procedures; and drafting. He includes brief resumés and discussions of literary history and literary fashions, the spirit of the age, and the creative process itself. Above all, his book helps you learn discrimination in your reading and writing – so that you can decide for yourself how you want your work to develop, whether that magazine was right in returning it or if they simply don't know their poetic arse from their elbow.
Writing Poems has become an essential handbook for many poets and teachers: invaluable to writers just starting out, helpful to poets who need a nuts-and-bolts handbook, a godsend to anyone running poetry courses and workshops, and an inspiration to all readers and writers who want a book which re-examines the writing of poems.
'The classic Writing Poems…indispensable' – Naomi Jaffa, Poetry Trust
'I would recommend this book to any student… It's funny, honest, thoughtful, realistic' – Gillian Allnutt, Northern Echo
'Peter Sansom's handbook is The Haynes Manual for Poetry' – Cliff Yates